El Cajon Shooting: Black Man Shot By Police Had No Weapon; Police Chief Admits
The Police Chief of El Cajon, Jeff Davis has revealed that the Black man, Alfred Olango who was shot by his men on Wednesday, didn't possess a weapon as reported earlier.
The city of El Cajon, San Diego was heavily filled with indignant protesters after another unarmed Black man was killed by the police. Demonstrators protested at the police station, calling for a probe into the shooting incident which led to the death of the Ugandan refugee, identified as Alfred Olango.
Olango was described to be a very educated man who had issues with his health. Agnes Hassan, a Sudanese who happened to have lived together with him in the refugee camp said that Olango suffered from a mental illness.
Literally one of the scariest phrases I've ever heard:

"I called you to help my brother, not to kill him." #AlfredOlango

— MagicalBlackGirl✨ (@SubtweetRinHere) September 28, 2016
Olango was shot dead by an officer who ordered him to raise his hands, which he did. But the police said they shot him because he had a weapon in his hands. According to Police Chief Davis, two officers fired simultaneously at the Black man. While one officer fired an electronic stun gun at him, the other officer fired his gun several times, killing Olango in the process.
This revelation aroused some critical questions from an associated director of the civil rights group Alliance San Diego, Christopher Rice-Wilson. Wilson asked why one officer felt more threaten than the other by the same action.
Media member just called #AlfredOlango a "suspect." He was not suspected of any crime. The suspect is the police officer who shot him.

— Andrew Bowen (@acbowen) September 28, 2016
Meanwhile, Davis has confirmed that Olango didn't have a weapon. He had assured the public that an unbiased investigation will be conducted to ascertain the facts of the matter. He has hence called on the residents to remain calm.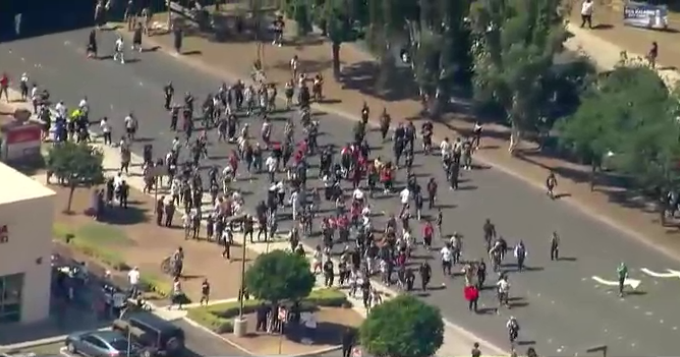 We are tired of these excuses! Excuses and apologies will not bring back our people who have been killed by the police. The police need to be more proactive and avert these avoidable instances. The man wasn't armed and didn't pose any threat to the police, so why couldn't they have used a non-lethal means to control the situation? Are guns the only weapons the police have? Must they use the guns in every instance? So now that it has been proven he didn't have a weapon, what happens next?
Horrified by the killing of #AlfredOlango. We need police to practice de-escalation & all available nonviolent options before using force.

— Dr. Jill Stein (@DrJillStein) September 28, 2016
Source: The Grio