Weak Apology For Racist Jokes: Star Black Female Kicker Compared To Gorilla
Racist jokes against Ashton Brooks, Stellar High School athlete, face no charges.
Racial abuse in America has no boundaries. This shameful practice is a widespread phenomenon that American Black people face every day. This is also the case of Ashton Brooks, star black kicker for a Michigan high school football team, who was exposed to racist jokes in an Instagram post. Below you will find a story from the most reliable resources, which explains in the details that even successful Black people can`t escape racial attacks against them.
THE GRIO
Ashton Brooks, a senior placekicker for the Dow football team in Midland, Michigan, is the number one kicker in her conference. She has also received a partial college scholarship to Northwood University for her skills in soccer as well as a partial academic scholarship. She also has a great singing voice and is on the Dow basketball team. See more
2. Meet Ashton Brooks. First girl on her football team. She's a kicker and is the TOP KICKER IN THE CONFERENCE. https://t.co/2nSet7tRBP pic.twitter.com/aNrZDqQCB9

— Shaun King (@ShaunKing) October 25, 2016
MIDLAND DAILY NEWS
She approached Dow football coach Jason Watkins, a math teacher at the high school, last spring with the idea of trying out as a kicker, and Watkins was open to the idea.
"I was 100 percent committed to it … and I think he realized this was something I was going to work for," Brooks said.
For his part, Watkins is thrilled to have Brooks on the team.
"She's a great kicker," Watkins emphasized of Brooks, who kicks right-footed in football and with both feet in soccer. "She's not our kicker because she's a girl who can kick. She's our kicker because she's the best kicker in the program. And she's one of the best kickers we've had in a long time."
Not only that, but she's a great soccer player, and she's balancing football with playing for two travel soccer teams in the fall — the Saginaw-based Tri-Cities Nationals and the Pontiac-based Nationals Union of the elite Midwest Regional League. Read more
ATLANTA BLACK STAR
However, Brooks' stellar athleticism did not protect her against the racist insult a former student hurled against her. Black female high school football player became the target of racist jokes in Instagram message Oct. 21. On a now-deleted account, a white woman likened star kicker Ashton Brooks to a gorilla.
The social media user posted the photo after Midland, Michigan's Dow High School took on rival Midland High School in a game last week. During the game, Dow won 26-22. Read more
When u don't even graduate high school so u gotta come back to talk shit about people doing well in it :/ pic.twitter.com/H2m2FDfcNV

— AshBro (@AshtonBrooks14) October 23, 2016
USA TODAY HIGH SCHOOL SPORTS
In a statement to USA TODAY Sports, Midland Public Schools Superintendent Michael E. Sharrow said Midland Public Schools is "sickened by the social media post and feel awful for Ashton and her family."
"The Board, Superintendent and High School Administrators have thoroughly investigated this incident," the statement continued. "The girl who posted the photo and caption is a former MPS student. She last attended MPS in the 2014-15 school year and now college age. We are equally offended and upset that our Schools and Community have been connected to her comments in this matter. The comments made do not reflect the beliefs of our District or Schools in any way."
"During the investigation it was evident that the student in the costume was surprised to learn that this post had been made. He was shocked that some people thought that he was complicit in staging the photo. We believe that based on what we have learned, he was unaware of the post being made and specifically did not know about the girl's comments until we addressed it with him" …
"Midland Public Schools will continue to track this information. We will condemn this type of racism and misuse of social media within our Schools, District and Community." See more
ATLANTA BLACK STAR
The user is Reyna Muck, a Michigan State University student identified by Facebook user Chris Aeschliman. According to school district officials, the MSU student last attended Midland Public Schools in 2015.
In the photo, Muck posed next to a person in a gorilla suit. In her racist jokes, she compared the ape to Brooks.
"got a pic with Dow's kicker," Muck wrote.
Brooks captured the image on Twitter, sharing it Oct. 22.
She captioned the photo, "When u don't even graduate high school so u gotta come back to talks— about people doing well in it."
Then, Muck attempted to share an apology, posted by Andrea Pugh on Facebook.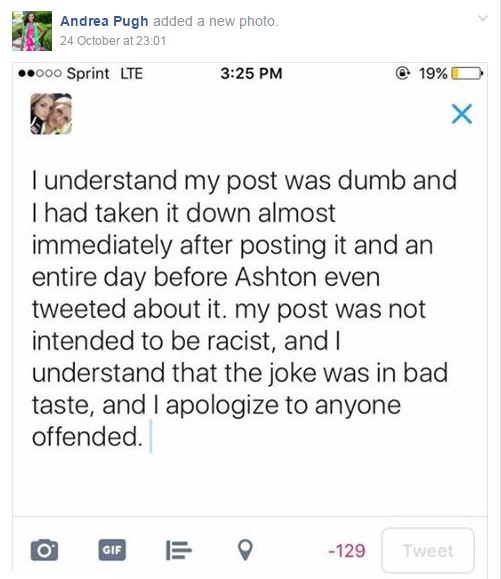 In response to Muck's post, the MPS school district issued a statement. "MPS is sickened by the social media post and feels awful for Ashton and her family," it said. "The board, superintendent, and high school administrators have thoroughly investigated this incident. The comments made do not reflect the beliefs of our district or schools in any way," it continued.
Also, the district revealed the costumed student did not know about the post and the accompanying caption until officials informed him.
After praising Brooks as "an outstanding student, athlete and person," the district vowed to denounce the racist post.
"We will condemn this type of racism and misuse of social media within our schools, district and community," it read. See more
BET
Brooks has received much support on her social media accounts from people across the nation. Although the student who posted the photo has not made a comment, the mother of the girl — who was known on Instagram as Molly Muck — spoke to a Michigan news station regarding the incident.
"This poor little girl, I hope she's OK," Jules Muck told WNEM. "My understanding is that no one is upset with each other, it's the other people who have posted these things creating an invitation to harm my daughter. Is that right? My daughter was stupid and she did the wrong thing. She's sorry for it and she will change. She isn't racist. She doesn't hate."
"I just have this drive to try new things and dare to be different," Brooks told. Read more
Black people are always exposed to racial attacks in the US. Racism is deeply rooted in the American society and it can`t be eradicated easily as history shows us. Even an honored Black teen faces racist jokes. White people are always the same, they used to humiliate us and our achievements. We know that Black people can feel free of racial insults and discrimination only withing the Black community.