White Supremacist Is Charged With Terrorism
White man who murdered Timothy Caughman because he was black is charged with terrorism
A murder suspect accused of coming to New York to kill as many black men as he could will face trial on charges of terrorism, according to New York County District Attorney Cyrus R. Vance Jr, reporting The Huffington Post.
On Monday, James Harris Jackson, 28, of Baltimore was indicted Monday on one count each of first- and second-degree murder as an act of terrorism for the March 20 stabbing of Timothy Caughman, 66.
He previously was charged with second-degree murder as a hate crime and three counts of criminal possession of a weapon.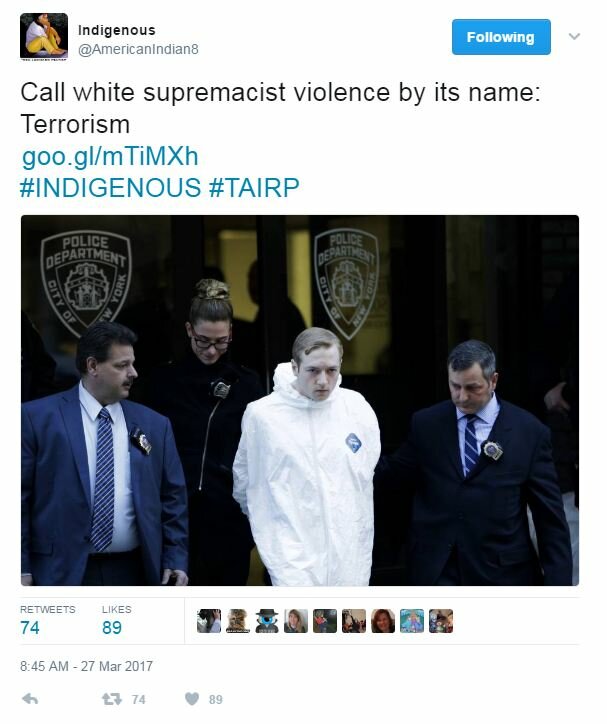 Vance said the hate crime charges were warranted because of the coldblooded way he chose his victim, according to a statement released to the press.
Caughman was rummaging through trash looking for bottles and cans when he was fatally stabbed with a 26-inch sword.
When Jackson turned himself in, about 24 hours later, police said, he told officers he came to New York from Baltimore "for the purpose of killing black men."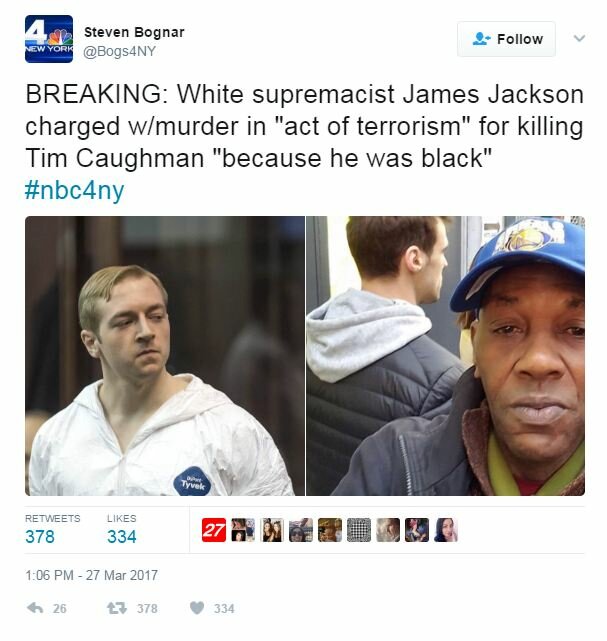 Jackson reportedly acknowledged the crime to the New York Daily News, saying he wanted to discourage white women from getting romantically involved with black men.
"I didn't know he was elderly," Jackson told the paper. He added that he would have rather killed "a young thug" or "a successful older black man with blonds … people you see in Midtown. These younger guys that put white girls on the wrong path."
Vance's statement said a crime like this is a reminder that New York's "remarkable diversity" can't be taken for granted. "We must celebrate it, protect it, and refuse to let violence and hate undermine the progress we have made as a city, a state, and a nation."
This is a terrorism of white supremacist and he is not even hiding it, because he is proud of it, and he knows that he is not alone who think that way. Racists are founded this country and they will continue to exist. That's why we should never stop fighting it!