Deputies Abandoned School Security Because Players Knelt During Anthem
Louisiana deputies have refused to work the school security details for Bonnabel High School following their protest against police brutalities on Blacks.
The students of Bonnabel High School are to pay dearly for kneeling down when the anthem was being sung during last week's game. The students portrayed that gesture to protest against the rampant police brutalities on Black-Americans.
DESPICABLE.

Louisiana Police refuse to provide security for high school football game where kids took a knee.https://t.co/KAKOkyR0Ms

— Shaun King (@ShaunKing) September 28, 2016
The deputies got offended by the students' action, hence have declined to work the security details of the school.
Isaac Joseph, Jefferson Parish Public Schools' superintendent said "I was a bit taken aback at first. Keep in mind, I know what is happening nationally with some of the protests that's happening across the country," speaking about the protest by the students. But he later added that it was within the students' rights to protest hence, they couldn't be put under any form of punishment for their action.
So BONNABEL HIGH SCHOOL IN LOUISIANA IS TRYING TO CANCEL SCHOOL ACTIVITIES DUE TO THE FOOTBALL PLAYERS KNEELING DURING THE ANTHEM 🙄

— DANSE4ME.COM (@Danse4MeTiaB) September 28, 2016
Sheriff Newell Normand sought to give some explanation for the deputies' decision to boycott the security work of the school. He said, "I understand why, in light of Colin Kaepernick's comments, specifically when he says, 'Cops are getting paid leave for killing people.' That's not right, that's not right by anyone's standards. The fact of the matter is we risk our lives each and every day for the safety and security of our constituency throughout this country."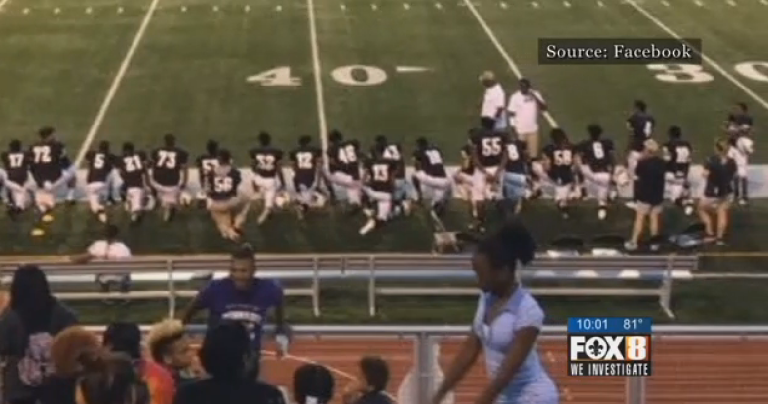 He further stated that, the working of security for the school is voluntary; therefore, he cannot compel any of his men to do it if they don't want to. He went on to say that "The same way that the Bonnabel players have every right to kneel during the national anthem, my officers have every right not to volunteer to work the Bonnabel high school football game."
Found the systemic racism: #NewOrleans cops won't do security for highschool team that took a knee. https://t.co/Xa7Lo1Tmsk #ows #blm

— Occupy Toronto (@OccupyToronto) September 28, 2016
Sheriff Normand later mentioned that some deputies have volunteered to work security at the high school.
Does the Constitution work in America? It seems the nation runs on some principles outside its own Constitution. The issue of racism has become the topmost priority in the lives of officers rather than their call to duty. Why should anyone be offended when someone asked to be treated right? What did they expect? That we kept quiet and watched things go worse? Is that the reason they have refused to protect our children? This is extreme cruelty.
Source: The Grio