IHOP Waiter's Kindness Goes Viral
Black IHOP waiter stops working and helps disabled woman to eat her meal
A waiter at an Illinois IHOP has become national news not because of any controversy but because he is a supremely nice guy after being seen helping a disabled woman enjoy her breakfast.
Joe Thomas, a server at the Springfield, Illinois, IHOP, is being celebrated for his compassion and grace after a customer took photos of his attention to a woman who has Huntington's Disease, Fox 29 reports.
Over last weekend, IHOP customer Keisha Dotson posted a photo to Facebook of the server helping a diner eat her breakfast. The photo has gone viral with over 11 thousand likes.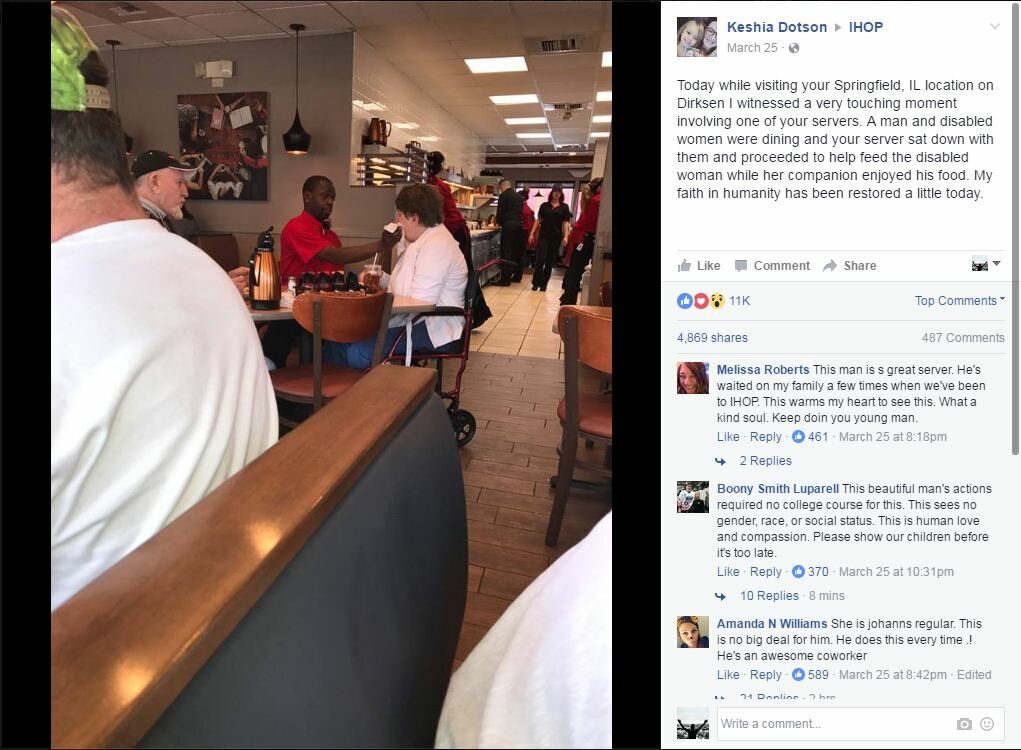 For his part, server Thomas says he is a bit embarrassed by all the attention.
"It really felt good for somebody to actually see another person is doing something and take notice. It felt good, but at the same time I was like I really don't care for the recognition too much because it's just something that should automatically be done regardless," he said.
"My parents always told me to treat people equally and that's what I try to do all the time," Thomas added.
It also turns out that Thomas helps this couple out every time they visit, so this was not a unusual act for the kind-hearted waiter.
Months ago, Thomas saw the woman's husband putting his own meal aside to feed his wife and that is when Thomas sprang into action.
"I always see him stop eating to feed her," Thomas said, "and I was like 'heck if I'm not doing anything why don't I go feed her so he can eat and everyone can be happy?'"
Since the photo has gone viral, Thomas told WICS he has been offered a job opportunity to become a nurse.
He certainly has the patience and compassion to be a great one.