"Little Apple" Series Unapologetically Black
Little Apple is an incredibly witty girl, giving the audience insights into major problems of the Black community.
Riley Wilson (the creator), Lisa Cortes (the executive producer),  Milan Williams (the performer of the main part) and other members of the team are proud to introduce you  "Little Apple", a new self-titled web series that explore the issues that a young Black girl growing up in a gentrifying neighborhood may face.
Little Apple, a sci-fi drama following a 9-year-old all-knowing little Black girl growing up in a new Harlem, N.Y. goes to Kickstarter pic.twitter.com/5nib8TVequ

— Crystal Johnson (@Crystal1Johnson) June 24, 2017
Themes explored in the series and supporting platforms include:
– Gentrification vs. Displacement
– Black Feminism
– Racial Microaggressions
– The Limitations of Liberal Allies
– Native American Erasure
– The unspoken connection many people of color share.
As you can guess, it's not too simple for the young actress to go deep into the details of these complicated issues, so she can not but try to equal with her character in knowledge.
"Milan herself is very smart and wise. But I think about why we have bodegas everywhere and now all of a sudden there's a Whole Foods opening up on the corner of 125th Street and Lenox? You don't have to be 14-yrs old [or and adult] to have a field of reference or to see that with a changing landscape, there's a change in opportunities that our community should have had access to from years ago,"  Lisa Cortes says. "I think that kids are much smarter than we give them credit for. Milan on her own in her family has been exposed to very sophisticated conversation for a long time. She's also spent a year talking with Riley and exploring these issues."

The project is aimed at encouraging people of color, and others, to start engaging not only adults, but also children in the discourse about the issues Black community faces. Lisa told, "I grew up with parents who told you real talk about real issues. That's what's happening in many homes, not just in Harlem. These conversations that we need to have with our children are national. In terms of preparing them for the disparities that others might try to put upon them."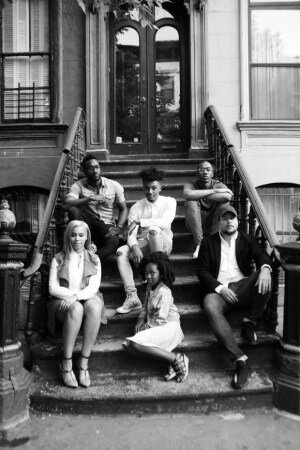 The "Little Apple" team plans to shoot 5 5-8 minute episodes over two days on July 29th & 30th so they are asking you to support them on Kickstarter.