Good Samaritan Saves Victim From Car Crash
Aaron Tucker, an ex-prisoner in Connecticut and a Good Samaritan, gets rewarded for helping a car-wreck victim.
It's not easy to find a job when you've just been released from jail.  A mere invitation to a job interview may take months… but still, Aaron Tucker, 32, decided to miss his one when he noticed a man in a smoke filled car.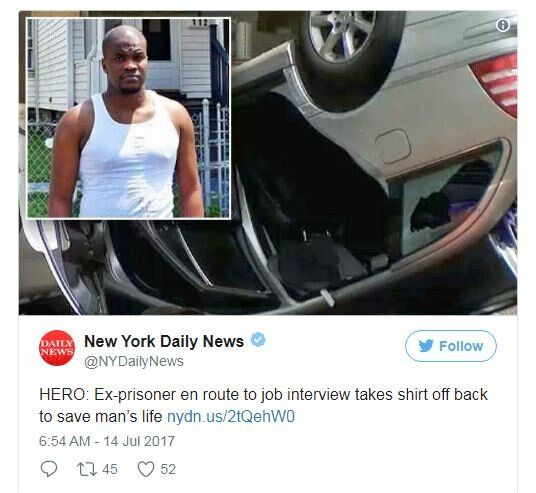 "I looked up and saw a car flipped over right in front of the bus, so I ran to try to jump out of the bus," Tucker says.
According to the Newsone, Tucker removed his shirt when he saw the driver bleeding from his head. Thanks to Tucker and two other rescuers' quick thinking, the man only sustained some head trauma.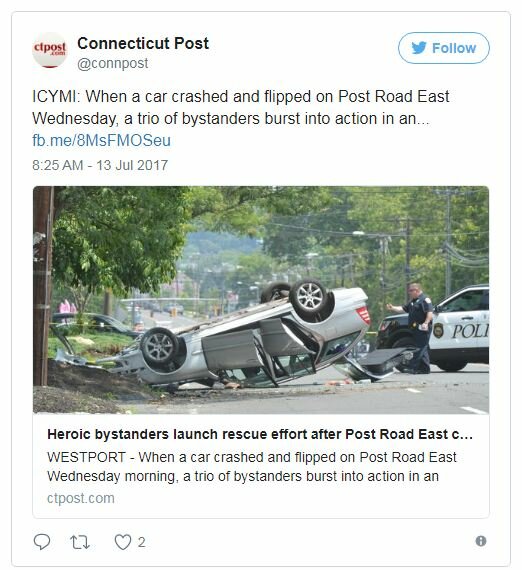 An ambulance arrived and took the man to Norwalk Hospital where he is in stable condition.
Surveillance video shows crash, ex-prisoner Aaron Tucker racing to help injured driver. Westport residents have raised 16K in appreciation. pic.twitter.com/ONJoUSDGhW

— Marcus Solis (@MarcusSolis7) July 14, 2017
Though he missed his job interview for a job as a bus boy at Dinosaur Bar-B-Que in Stamford, the job he needed to help support his 21-month-old son, his act of kindness "earned him three offers so far for jobs in construction and at a rubber factory," writes the Daily News. But the good Samaritan remains humble.



"God put me there to be helpful," Tucker tells. "It [my job interview] didn't go through my head because a job can come and go, but a life is only one time. The only thing running through my head is that person in the car could pass away and I could help him."
https://t.co/io2ZXW2icB#AaronTucker

— BriskWalkLady (@BriskWalkLady) July 14, 2017
This Good Samaritan is a walking proof of how wrong people can be in their perception of Black inmates and ex-inmates. He is a real-life hero whose spirit was not lost during incarceration.