Verdict Announced On Philando Castile's Murder
The jury has recently reached a verdict in the trial of Officer Jeronimo Yanez, accused of killing Philando Castile. It took them approximately 29 hours to make the decision.
On Friday at around 2:45 p. m. the pool of 15 jurors announced their verdict for St. Anthony, Minnesota police officer, Jeronimo Yanez, who shot a Black motorist, Philando Castile, five times last July during a traffic stop in a St. Paul suburb, just moments after Castile told him he had a gun. Castile's girlfriend, Diamond Reynolds, recorded the terrible incident on her phone and streamed it on Facebook Live.

Prosecutors claimed Castile, who was an elementary school cafeteria worker, never reached for the gun and Yanes had all the opportunities to spare his life. Defense attorneys insisted that the 29-year-old Latino officer was scared for his life.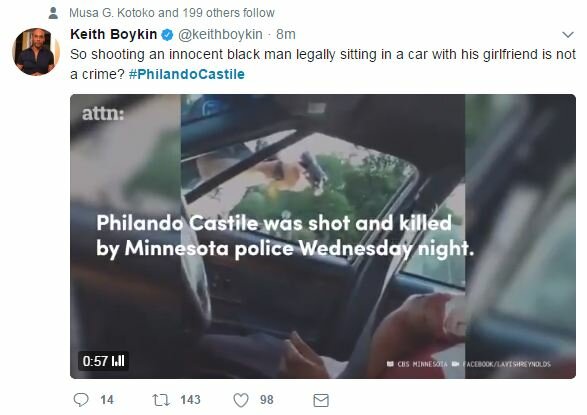 The jury got hold of the case on Monday afternoon. On Tuesday, they analyzed the dashcam video from Yanez's squad car and Reynolds' Facebook Live video.
On Wednesday, they announced their inability to come to any reasonable conclusion and yet on Friday they proclaimed Officer Yanez… not guilty.


The Internet users are outraged and they have the full right to it. You can call the verdict whatever you like but we call it legalization of genocide as a white man has been just found not guilty of killing a Black man for nothing.
WATCH LIVE: Family of Philando Castile reacts to acquittal of Minnesota police officer in shooting death https://t.co/Okz2bwUl4f pic.twitter.com/FswIcsynOR

— CBS News (@CBSNews) June 16, 2017