Flint Water Crisis: 5 Officials Face Involuntary Manslaughter Charges
Man dies from contaminated water in Flint and now 5 Michigan officials face involuntary manslaughter charges over Flint water contamination
Five Michigan state officials have been charged with involuntary manslaughter in the death of a man who contracted a fatal illness from contaminated water in the city of Flint.
Those facing involuntary manslaughter charges are Michigan Department of Health and Human Services Director Nick Lyon, former Flint Emergency Manager Darnell Earley, and former City of Flint Water Department Manager Howard Croft, as well as Michigan Department of Environmental Quality Drinking Water Chief Liane Shekter Smith and Water Supervisor Stephen Busch. Involuntary manslaughter is punishable by up to 15 years in prison, and/or a $7,500 fine, says the attorney general.
In addition to the involuntary manslaughter charges, Lyon also has been charged for misconduct in office, and Eden Wells, the chief medical executive for the state, was charged with both obstruction of justice and lying to a peace officer.

Robert Skidmore died in December 2015 from Legionnaires' disease after local water was contaminated and health officials failed to notify the public. According to Michigan Attorney General Bill Schuette, the 85-year-old was one of at least a dozen Flint-area residents who died of Legionnaires' disease due to the water contamination.
Schuette said the five officials (plus another facing other charges), failed to notify the public or take action after a move to save the bankrupt city money ended up contaminating Flint's local water supply.
After researchers discovered that water in Flint was contaminated with dangerous levels of lead, enough to harm children's developing brains, the crisis became an international story. Lead poisoning is devastating but slow — but the water also carried other contaminants whose effects showed up more quickly, including the bacteria that cause Legionnaires' disease.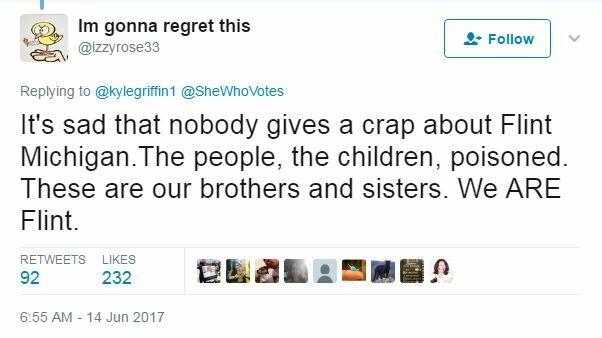 The contaminated water was the result of a decision Flint made in 2014 as a cost-saving measure. The city would stop buying drinking water from Detroit and instead draw water from a new countywide system. But that system wasn't yet fully built. So in April 2014, the city began using treated water from the Flint River as a stopgap.
It turned out the river water was corrosive, and lead from the city's pipes began leaching into the drinking water. In parts of Flint, the percentage of children with high levels of lead in their blood doubled after the switch.
The corrosive water also caused other problems. Cases of Legionellosis, a respiratory disease spread by bacteria, spiked in the region, likely spread through city water. The bacteria can cause a mild illness, or it can lead to Legionnaires' disease — a serious illness akin to severe pneumonia.
The situation in Flint became a national scandal after the water crisis played out in plain sight for months while the state refused to acknowledge it. To many people, what unfolded in Flint was a powerful illustration of how politicians ignore the problems and concerns of poor African Americans — even when the politicians caused the problems in the first place.