Black Lives Matter Plans To Bail Out Moms For Mother's Day
Memphis Black Lives Matter chapter plans to collect money to bail out moms for Mother's Day
When many people hear the phrase 'Black Lives Matter' there's a host of opinions that surface within a conversation. You'll hear about 'Black Lives Matter' being associated with protests against police brutality. Others will say it's a fact that needs to be reiterated continually to people in society because Black lives are devalued and forgotten. And others will say it's a slogan that has lost its relevance because it's become old.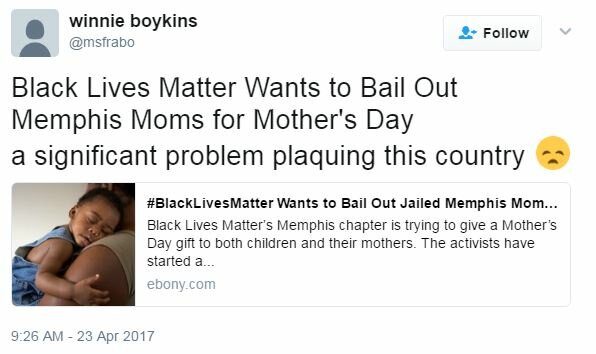 However, when you talk to those within the white community, you're bound to get a different answer. A lot of whites label the 'Black Lives Matter' movement as being racist. Remember, anytime Blacks decide for themselves to ignite a cause that is for the betterment of the African-American community, resistance from non-Blacks is evident. Don't forget how the law enforcement community views the 'Black Lives Matter' moment. They see it as anti-police which is completely wrong. Again, it's important to reiterate, when Blacks stand up for themselves and question any injustice, people deem it a problem.
Because 'Black Lives Matter' brings about mixed emotions, it's good to know that a chapter in Memphis, TN is taking it a step further. The chapter is raising $35,000 between now and Mother's Day so that they can bail out Black mothers so they can spend time with their children on Mother's Day.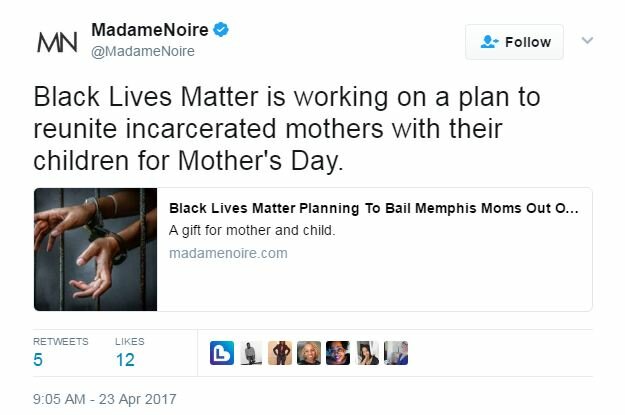 "Organizer Erica Perry hopes that even if it's only for a short time, these mothers can at least spend it with their children: 'If you a black mama, you're in jail, you talking to us, then you're eligible. We're asking our community members to think how they spend Mother's Day, how they celebrate and honor the women who they love,' according to Madamenoire.
The campaign is geared to bailing out 274 women in Shelby County. These women have been arrested for misdemeanor crimes. It's been reported that about a quarter of them will be released after their day in court. ColorofChange.org and Movement for Black Lives Policy are part of this campaign.
"Alex Karakatsanis, a lawyer and executive director of the nonprofit Civil Rights Corps tells the Memphis Commercial Appeal that the problem isn't just a Tennessee or New York problem, but a problem for the entire country: 'It's an incredibly significant problem plaguing virtually every jurisdiction in the country. There are about 450,000 to 500,000 human beings who, on any given night in this country, are in a jail cell solely because they can't make a monetary payment prior to being convicted.'"