Reasons to Boycott Christmas
"To the sellers of trees and trains and pins and pianos, we urge you to understand and to pledge with us that this Christmas shall come from our hearts and minds, not from our pocketbooks…" —James Baldwin, urging support for a Christmas boycott

This year there are a million reasons to boycott the traditional Christmas and the mass consumption around it. Here are some of them:
Send a clear, economic message that things have changed
Black activism has never been easier. One not need throw a Molotov cocktail, or picket a store, lie down in a mall, or even join a protest organization—one merely has to NOT do something—namely, not spend. This dedicated REFUSAL to spend money within a system that depends on our spending—until that system plays fair—is the STRONGEST message that a capitalist system can possibly hear.

Stop participating in our own oppression
So far, in 2016, more than 1,000 people have been killed by police. Michael Brown, Trayvon Martin, Freddie Gray, Tamir Rice, Eric Garner, and countless others will not be celebrating Christmas, but their killers will. When we boycott Christmas, we stop participating in Black slaughter.
Martin Luther King and Medgar Evers did it
Both civil rights leaders used Christmas boycotts to press for Black justice. NAACP leader Medgar Evers led a successful boycott of 150 downtown stores in Jackson, Mississippi, in 1962. It was overwhelmingly effective and forced the white leaders to take the NAACP's demands seriously. On his last day on earth Dr. Martin Luther King asked us to practice "economic withdrawal" as a strategy to gain our rights.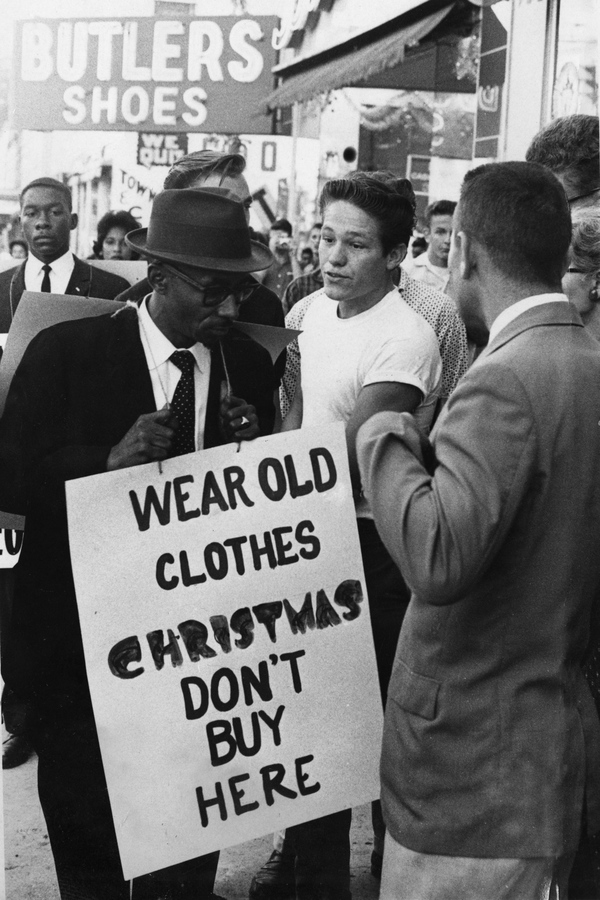 Jesus did it
When Jesus confronted the rabbis for their wicked misdeeds, the very first thing He did was to target the merchants. The Bible outlaws Xmas. One may look no further than the King James Bible, Jeremiah 10:2-5, wherein God Himself denounces the pagan ritual of chopping down and decorating a tree and the worship of false idols—heathen traditions that have come to represent Christmas.
You Can't Afford It
15 million Americans say that when the Christmas season arrives, they still have not yet paid the debt from the last one. Each family carries an average credit card debt of $16,000; mortgage debt: $155,000; student loan debt: $32,000. Nobody wants your gifts
A Yale University study estimated that $4 billion worth of Christmas gifts are wasted every year. The gift is not wanted and will not be used. It will be re-gifted, tossed into a closet or garage, or thrown away, adding immensely to American clutter and waste.
It is the perfect time to get control of our fleeing Black Dollars
Black American buying power is at $1.1 trillion, yet only 2 cents of every dollar Blacks spend in this country go to Black-owned businesses. Blacks make up more than 13% of the U.S. population, but only own 7% of the businesses.

But the holiday season can still be celebrated the way it should be and for the black community there is a way to really make it what it should be.
Let us celebrate Kwanzaa! (26th Dec – 1st Jan)
Kwanzaa is all about the things that matter!
In 1966 Dr. Maulana Karenga wanted to create a way for African Americans to celebrate their black culture, be brought together, and appreciate their loved ones and their goals.
The festival was based on the harvest festivals celebrated throughout Africa and the name was taken from the phrase 'matunda ya kwanza' which means 'first fruits' in Swahili.
Kwanzaa has seven days and seven candles. Here are the days:
Umoja: Unity – Unity of the family, community, nation and race
Kujichagulia: Self-Determination – Being responsible for your own conduct and behaviour
Ujima: Collective work and responsibility – Working to Help each other and in the community
Ujamaa: Cooperative economics – Working to build shops and businesses
Nia: Purpose – Remembering and restoring African and African American cultures, customs and history
Kuumba: Creativity – Using creating and your imagination to make communities better
Imani: Faith – Believing in people, families, leaders, teachers and the righteousness of the African American struggle
An absolutely positive way to celebrate the black community and the holidays. So, are you in?