Do you feel anxiety and stress? Discover positive mechanisms to cope with this condition with T. Conswello Davis.
Mental health is a huge issue for many within the African American community. It is very important for us to educate our communities and one another. The stigma associated with mental illnesses discourages individuals from seeking therapy and treatment. Most illnesses are treatable and some diagnoses do not require medications. No matter one's political views, America's current climate shows we must remain steadfast and vigilant with our mental health.
My family when I was young did not discuss problems especially if they felt the issue would negatively reflect upon us as a family. Avoidance of the discussion turns into denial that there is a problem. The coping mechanism in my family, as in many, was that no problem occurred, and whatever you may have seen or heard was not real.
Unfortunately, avoidance and denial are coping mechanisms ingrained into the Black community from the days of slavery: my grandmother and other ancestors learned to avoid talking about the issues they were forced to deal with on a daily basis. When we do not acknowledge what we see, or speak about the issues we need to face, denial can turn into mental illness.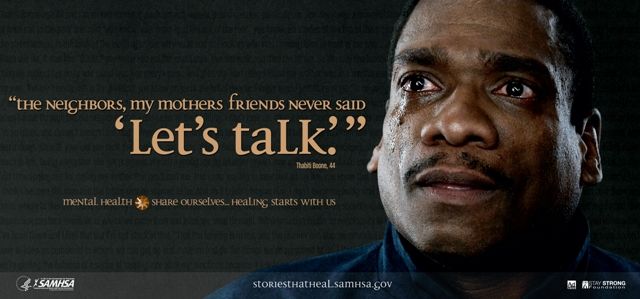 There are positive coping mechanisms that will help us to reflect, acknowledge, and continue to prosper. We all must adjust and use positive coping mechanisms during times of challenge in our lives. It is difficult to focus on our physical health and happiness when we are dealing with slights from coworkers or friends, and financial issues, and the day-to-day problems that occur, but we must.
What positive coping mechanisms are utilized whenever you feel anxiety and stress?
Meditation and yoga are two positive coping mechanisms we can use to help us deal with the stress of daily life. Psychology Today and other researchers say these two exercises can help with anxiety, asthma, cancer/breast cancer, diabetes, depression, heart disease, high blood pressure, menopause, obesity, stress management, and weight loss.
Meditation is considered a method of self-healing, and increases awareness, happiness, acceptance. Studies say it can also slow aging. Meditation (and prayer, for those who enjoy it) can help you to reflect on your challenges and discern the best way to manage any given situation.
Meditation is free. If you want to learn to meditate, you can do so for free in the privacy of your home with online videos. Oprah and Deepak's 21-Day Meditation Experience is a good video to try.
Self-soothing is very individual. When I am upset, I write, run, listen to music, or dance. Music is uplifting and can change one's mood, while running and dancing are exercise to release built-up frustration.
Writing is awesomely therapeutic for numerous people. Nothing you write has to ever be seen by another human being. Just get a notebook and start to keep a journal as you progress through your life. Or, if you prefer, document special memories. Write how you feel, what your thoughts are, and what you would like to see change. Release your feelings by writing your story!
Many of us are saddened by the Obama family leaving the White House. A large number of us are anxious because of president-elect Donald Trump, who ran a campaign based on racism, misogyny, and bigotry.
We have a choice! We can choose to be optimistic, keep working and sustain what we have. Or, we can give in to the doom and gloom. It takes a conscious decision to focus on the positive to deal with the ills of society and the probability of the next four years. We must accept the things we can control: our health is our wealth. Learning to release the negative energy and create positive energy within our homes and our work is the first step to a better life for each of us.
If you feel that your sadness or anxiety become too overwhelming, don't make any rash decisions. Seek help from a professional calling this Suicide Hotline 1-800-273-8255