Walter Scott trial: with 11 white juries result is predictable
Mostly white jury was chosen to decide the fate of the white former police officer who killed Walter Scott. All advocates of justice are outraged.
The 11 white people and one black man on the jury are expected to hear opening statements Thursday morning in Michael Slager's murder trial. Michael Slager, 34, is charged with murder in the April 2015 shooting death of Walter Scott, 50, who was running from a traffic stop in North Charleston when Slager shot him in the back five times.  Slager faces between 30 years and life in prison if convicted of murder.
The video footage of Scott's death on April 4, 2015, showed the two struggling and Scott running away as the officer fired at him eight times. Slager said Scott had grabbed his Taser and will argue self-defense at the trial.
The Washington Post reports that the jury was chosen from a predominantly white jury pool. Of the pool of 75 qualified jurors, 55 were white, 16 were black and the rest were other races. Attorneys for Slager used their strikes to dismiss nine potential jurors, seven of whom were minorities.
After a mostly white jury was chosen Wednesday to decide the fate of the white former police officer who killed Walter Scott, his attorney pressed on with a fruitless effort to move the trial and find new jurors who know less about the shooting and the video of it, says Post and Courier.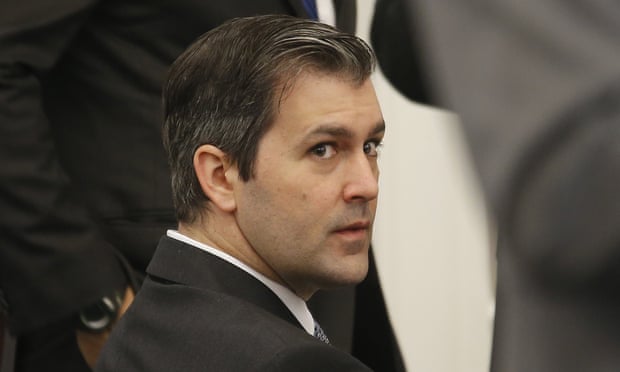 The trial's start will come despite protests by Slager's defense team, who expressed a fear that it would become a "bellwether" case for the nationwide scrutiny of police killings, particularly those targeting black men like Scott. The jury held up after prosecutors dropped a legal challenge, alleging the defense's dismissal of seven minorities from the jury pool was racially motivated.
Though racial themes have persisted in the Walter Scott case since that day last year, Slager's attorney has insisted that race never played a role in the confrontation.
Savage requested a change of venue because voir dire, the questioning meant to elicit jurors' biases, fell short earlier this week, he argued. The defense, he said, got little idea of the jurors' views of Scott's death and the video that emerged last year amid a wave of police criticism that was punctuated with chants of "black lives matter."
Everybody's reporting the races of the jury, like we didn't know this would be another episode of how to get away with murder #WalterScott

— TheFemaleDrake (@URBANKash_) November 2, 2016
Savage laid bare his qualms with "polluted" news coverage that didn't show what happened before the video of the gunfire, and he asked for a more rural trial setting where there isn't such "immeasurable saturation" of the case. He suggested Pickens, Union, Edgefield or Marion counties.
The presiding circuit judge, Clifton Newman, said he was unpersuaded by Savage's argument, which included the attorney's own testimony — an unusual scene in a criminal trial. He noted that the pool of prospective jurors had vowed cast aside their knowledge of the case.
"They … (said) that they could be fair and impartial," Newman said. "We selected 18 jurors who shared that same sentiment."
With such pretrial motions aside, the case will rest squarely in the hands of the six white men, five white women and one black man who make up the primary jury. They will be sworn in before the start of testimony Thursday at the county courthouse in downtown Charleston. Six alternates also were selected: two white men, two white women and two black women.
A state judge already dealt with a series of outstanding motions. According to Yahoo News he denied a request to move the trial of Michael Slager from Charleston. Circuit Judge Clifton Newman also refused a request to dismiss the indictment against Slager.
All white jury in Walter Scott murder case except for one black. So basically get ready for a not guilty verdict. #thefixisin #walterscott pic.twitter.com/rDhb862mQG

— Leroy Brown (@badboybrwn) November 3, 2016
A request by the defense to block a dramatic cellphone video of the slaying was not immediately considered.
A defense attorney said the issue would be raised at the time the prosecution presents the evidence.
Under any curcumstances we can't call fair the trial where white people hear the case about murder of black man Walter Scott. Even statictics shows that juror commonly dismiss charges against white killer. Remeber the Derrick Price's case which was over at April 8. This trial has rare chances to be different. Jury replacement is only possible way to restore justice.